DARIA GORBAN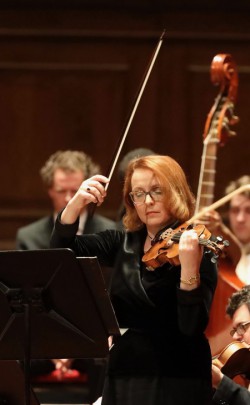 Daria Gorban is for many years one of the main musicians in the ensemble Violini Capricciosi. In 2007 together with Igor Ruhadze, she foundered the ensemble Violini Capricciosi and the foundation Violini Capricciosi. Daria till now is the violinist and the director of the ensemble Violini Capricciosi.
Daria Gorban graduated from the Moscow State Conservatory as a solo violinist and later I graduated from the Amsterdam Conservatorium as a specialist in baroque and classical violin. Since 2005 she is living in The Netherlands.
Daria always wanted to play the violin, as a child, she awarded first prize in the Young Talent Competition in USSR, as well as third prize in The Russian Heritage Competition and later on several more violin competitions. For several years she received grants from The Russian Heritage Foundation. Daria travelled a lot, performed throughout Europe and appeared in festivals in Austria, Germany, Holland, Finland and of cause in Russia. She had an excellent opportunity to play with different renowned musicians, as well as within different ensembles: van Swieten Society, ensemble Violini Capricciosi, Concerto Moscow, Pocket Symphony, Music ad Rhenum, The Apollo Ensemble, La Primavera, Florilegium and The Northern Consort. Since 2007 for 13 years she was the second concertmaster of The Bach orchestra of the Netherlands. Daria recorded numerous CDs with different chamber music groups, as well as live recordings of CD and DVD as a 2d concertmaster of The Bach Orchestra of the Netherlands, including the famous movie by Ramón Gieling "Erbarme Dich". During last years Daria made a complete recording of Locatelli trio sonatas 2CDs ( as a 2d violin solo), violin concertos 5CDs (as a concertmaster of the orchestra) and Concerto grosso 6 CDs ( as a 2d violin solo), this box of 21CD got fantastic reviews. This January 2020 new CD with complete Leclair violin concertos, where Daria had played as a concertmaster of the Ensemble Violini Capricciosi, recorded with the soloist and the violinist Igor Ruhadze went out successfully.