DUO NEPOMNYASHCHAYA & RUHADZE
Duo Nepomnyashchaya &Ruhadze
The period instrument duo, comprised of the Dutch (Soviet Union born) Baroque-specialist violinist Igor Ruhadze and harpsichordist Alexsandra Nepomnyashchaya formed several years ago and communicates the spirit of Enlightenment through engaging performances of Baroque music on historical violin and keyboard instruments.
The duo injects energy and passion into their performance of works from the 18th century through the early Romantic era. The first CD was released in April 2021 and won warm praise!
Duo worked hard during the last several years and new CDs with works by Bocchrini & Geminiani will be released in 2023!
Alexsandra Nepomnyashchaya bio
BOCCHERINI VIOLIN SONATES volume 1 Diapason 5 ⭐️⭐️⭐️⭐️⭐️
NEW CD box L. Boccherini "Complete Violin Sonatas, Vol. 1"
Igor Ruhadze & Alexandra Nepomnyashchaya & Ensemble Violini Capricciosi
The Cd box L. Boccherini "Complete Violin Sonatas, Vol. 1" which was released in May 2023 got 5 ⭐️⭐️⭐️⭐️⭐️ from the famous French magazine "DIAPASON"
Congratulations!
NEW CD - BOCCHERINI VIOLIN SONATES volume 1
NEW CD - Boccherini
Igor Ruhadze & Alexandra Nepomnyashaya​ & Ensemble Violini Capricciosi
Na maanden van hard werken en toewijding, zijn de langverwachte opnames van L. Boccherini "Complete Violin Sonatas, Vol. 1" afgerond en kunnen we nu met trots de presentatie van de nieuwe CD aankondigen. Tijdens dit concert wordt u meegevoerd naar het hart van de Italiaanse muziekgeschiedenis. Niet alleen gewijd aan de legendarische componist Luigi Boccherini, maar ook aan zijn tijdgenoten Mozart en Nardini.
Presentatie concert 11 JUNI 2023 15:00 Bonifatiuskerk Almere
DUO NEPOMNYASHCHAYA & RUHADZE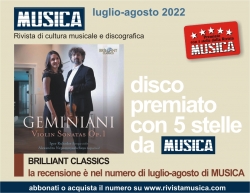 Nieuwe Cd van Igor Ruhadze & Alexsandra Nepomnyashchaya
De violist Igor Ruhadze werd opgeleid tot virtuoos op de moderne viool. Zijn interesse bracht hem echter in de oude muziek, waar hij speelde met ensembles als Musica ad Rhenum, Jed Wentz en anderen. Zijn solide techniek stelt hem in staat om de vaak angstaanjagende moeilijkheden van Geminiani's muziek met gemak, charme en briljantie aan te pakken.
5 sterren
https://www.pizzicato.lu/fruhe-sonaten-fur-violine-und-cembalo-von-geminiani/
"....In these recordings, too, he convinces with his unstrained flowing style and his secure mastery of the technique of violin playing. He has since continued to grow in stature in terms of a wider range of expressive possibilities. Thus this complete recording of Geminiani's op. 1 becomes a worthwhile exploration of this series".....